Get Free Canada Travel Guides Mailed to You
While travelling all the provinces and territories of Canada can take a while, ordering complimentary maps and travel guides for every canadian prvince and territory can be done in just 30 minutes.
Here are direct links to travel guide request forms for every canadian province and terriotory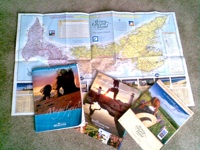 Follow the links below and fill simple forms. Submit your name and address and wait for packages to arrive at your home few weeks from the order date. Understandably longer for northern territories.